Tips to Help You Choose the Right Outdoor Furniture
Your backyard is the part of your home that represents the ideal getaway after a long day at work; the place where you can have a glass of wine while reading your favorite book or chatting with a close friend. Thus, it is important to choose the right outdoor furniture that will allow you to feel 100% comfortable and enjoy your outdoor space.
When it comes to outdoor furniture, there is a range of choices to choose from. But considering the fact that not all furniture is created equally, it is important to keep strength and durability in mind.
Here are some tips to help you choose the right outdoor furniture for your backyard.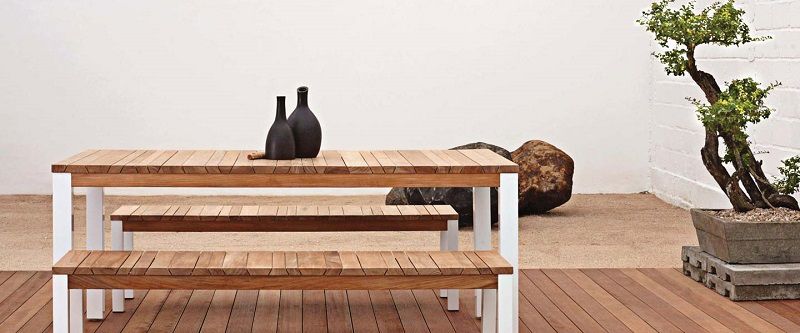 Consider the Size of Your Outdoor Space
It is wise to measure your available space and take those measurements with your when you go furniture shopping. In any circumstance try to squeeze a large furniture into a small patio. You will want to leave room so you and others can move around and enjoy the outdoors.
Sometimes a set with chairs can take up a lot of space. In such cases, a set with benches may be a better option as it can accommodate just as many people while still leaving room in the space. An outdoor dining bench is usually designed to seat up to 2 individuals but in a space otherwise enough to fit two chairs. So, if you doesn't have much space in your backyard or is looking to save space for a barbecue, for example, outdoor dining benches may be a great option for you. Let's not forget to say that an outdoor dining bench can be easily put away and hidden when you need some extra space.
Larger sets can come with 7 to 13 pieces to accommodate comfortably between 6 to 12 people. If you enjoy outdoor entertaining and have enough room to fit a larger set, it will sure become the conversation piece among your guest.
Keep A Design Consistency
You should choose an outdoor furniture that matches the style of your home and overall décor. In other words, treat your outdoor space as you would other rooms in your home and strive for harmony and consistency in choosing your outdoor furniture pieces.
Durability
Regardless of how you plan to use your outdoor space or the style you choose, it's essential to choose durable and easy to maintain furniture pieces that will withstand the elements (rain, sun, wind, etc) and last for years. Features to consider include fade-resistant finishes, high-quality materials, and comfortable cushions in all-weather fabrics.
It is important to understand that the right outdoor furniture is an investment that will provide your years of enjoyment, with very little care and maintenance.